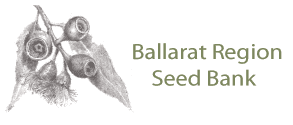 Regional Seed Service
Seeding Victoria is proud of its position as a nationally recognised leader in the field of provenance based seed supply. The strong quality control and data management procedures together with a program of best practice development ensure that the seed bank is able to deliver quality, appropriately sourced, genetically diverse seed for major projects.
The organisation services approximately 50% of Victoria and provides active support throughout the state and southern NSW. Rated highly on our criteria is the development of best practice, ethical sourcing and utilisation of seed and research to improve our knowledge, use and management of seed.
Seed bank staff are experienced in all aspects of indigenous seed supply and natural resource management as well as being skilled in financial management. Members of the seed bank executive committee are drawn from all sectors of the Natural Resource management field to ensure that the seed bank is actively engaged with the organisations and community groups that it services.
We have developed a wide network of collectors who we have worked with over many years to ensure that seed is collected ethically. This network of collectors extends to cover the entire seed bank service area. It is the diversity of this network of collectors, from commercial operators to hobbyists and landcare groups that enables the seed bank to deliver diversity to the seed supply projects which it manages.
The seed bank acts effectively to create a marketing body for seed collectors, whilst at the same time ensuring that the quality control parameters essential to deliver best practice to end users are maintained.